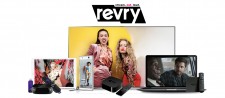 The LGBTQ Network gives their end-users a clear choice to engage on a paid subscription model or for free through an ad-supported experience
BURBANK, Calif., October 17, 2018 (Newswire.com) - ​​Revry, the global queer digital entertainment network, announced it has re-launched their OTT service in partnership with leading OTT provider dotstudioPRO. Addressing shifting OTT trends, Revry now offers multiple ways for its end users to engage with their content on both their branded direct to consumer apps as well as through syndication on other popular platforms providing a great way for brands and advertisers to reach and connect with its diverse 21st-century LGBTQ+ community. By providing both SVOD (subscription video on demand) and AVOD (advertising video on demand), Revry puts the power back in its end users hands by giving them the choice in how to view its unique, curated content library.
The Network now also offers enhanced features for its subscribed members like early new releases of originals and licensed works, an intuitive recommendation play-list, a "watch later" list, and continue watching options. Want to watch without a subscription? Just sign in and start watching the 4000 plus catalog of premium content for free. The dotstudioPRO technology now enables Revry to provide its members a seamless transition from engaging content to targeted ads from Revry's inventory of LGBTQ+-friendly advertisers like Lexus and Dollar Shave Club.
Our mission at dotstudioPRO has always been to be a true technology partner,

Joe Pascual, CEO/CTO
"Revry's partnership with dotstudioPRO has been a match made in heaven," says Damian Pelliccione, Revry's CEO and co-founder. "As a startup on the forefront of the digital distribution revolution, we needed a technology partner that could think ahead of the curve and roll with the changing trends in the technology and the market. DSP's resilience, quick thinking, fast turnaround, and innovative approach to business and tech problem-solving has been outstanding and we look forward to a long partnership with the company."
"Our mission at dotstudioPRO has always been to be a true technology partner," says Joe Pascual, dotstudioPRO CEO/CTO." Amidst all the noise in the space, we hope to bring real skin in the game placing focus on the monetization of our clients content libraries post-launch. Because our founders come from Entertainment Media, we view ourselves as not just a pick and shovels company but the partner who truly has Revry's success in mind."
The new dotstudioPRO-powered Revry apps are currently live on the web and across seven OTT and mobile platforms: Apple TV, iOS, Android, Android TV, Roku, and Amazon Fire.
About Revry
Revry is the first global queer streaming network, available in 35 million homes in over 100 countries, with a uniquely curated selection of LGBTQ+ film, series, and originals along with the world's largest queer libraries of groundbreaking podcasts, albums and music videos. Revry is available worldwide on seven OTT, mobile, and online platforms, and hosts the exclusive LGBTQ+ channels on Pluto TV and XUMO. Headquartered in Los Angeles, Revry is led by an inclusive team of queer, multi-ethnic and allied partners who bring decades of experience in the fields of tech, digital media, and LGBTQ+ advocacy. Follow on Facebook, Twitter, and Instagram @REVRYTV. Go Online to: https://revry.tv.
About dotstudioPRO
dotstudioPRO is the next generation Online Video SaaS Platform. Powering clients' multi-device streaming services, dotstudioPRO enables content owners to monetize premium content and syndicate it everywhere, making it easy for them to find an audience in a highly fragmented online video ecosystem. dotstudioPRO enterprise level solution launches clients, across Web, iOS, Android, Apple TV, Roku, Amazon Fire TV and Android TV quickly, helping them to grow, learn and iterate on the platform quickly. The platform also offers player-less video syndication feeds to platforms like VEWD and XUMO to name a few. For more information please visit them online: https://www.dotstudiopro.com/contact-us
# # #
For more information, contact:
Courtneay - Media Relations Coordinator
424-242-0595 ext (102) office
Source: dotstudioPRO
Share: